UNK MBB: Lopers Get Past Chadron, 113-101
Nov 19, 2023 / UNK Athletics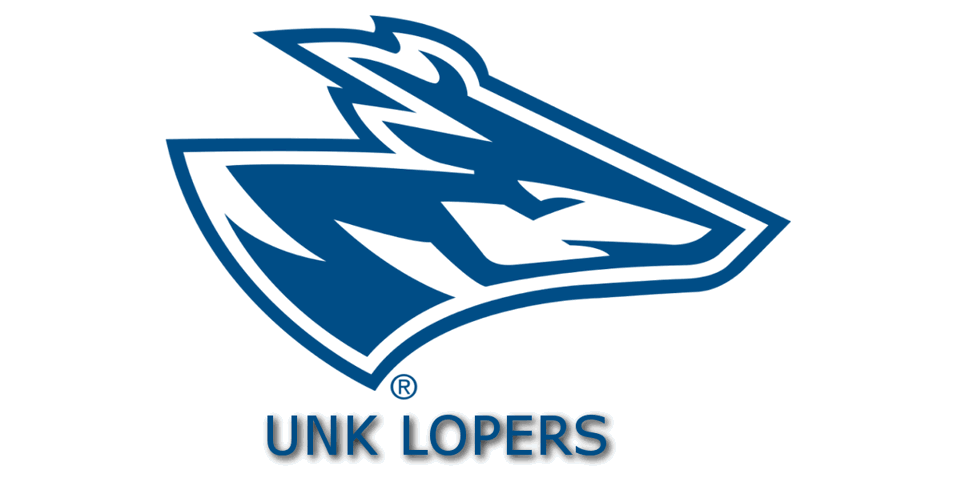 Kearney, Neb. – The Nebraska Kearney men's basketball team shot 66 percent from the field, the sixth highest effort in school-history, and closed strong to outscore rival Chadron State, 113-101, Saturday evening at the Health & Sports Center.
UNK wins its home opener and moves to 118-65 all-time against the Eagles (1-2). This marked the debut for interim head coach Antoine Young, a former Bellevue West and Creighton star.
"Winning is hard, period, so anytime you can get one it's pretty exciting," said Young. "This is a great group, they are fun to be around, and they also happen to have some talent on the basketball court."
In the highest scoring Loper game since a 113-100 win over Missouri Southern eight years ago, both teams were on fire all afternoon. They each made 13 of their first 20 shots, combined to go 23 of 47 from behind the arc with neither team leading by more than nine points until UNK's late surge. Overall, there were 10 ties and 16 lead changes.
"We got out and ran today and it's kind of a different style than what we've played like previously. A lot of transition and pushing the ball up the floor. That's what me and Coach Lofton wanted to do. That was our message all week … to get the ball up the court," said Young.
Having four different starters score at least 14 points, the Eagles led for 24 minutes and were up 45-36 late in the first half. However, UNK trailed by just a 55-51 count at the break and didn't let CSC fly away in the second, never trailing by more than eight before surging behind its bench.
A three-point play from junior guard Sean Evans (Parker, Colo.) made it 84-83 with 9:45 to play, the Lopers first lead in nearly 20 minutes of game action. The teams battled back and forth from there with UNK breaking the 10th tie (90-90) with a game-sealing 11-5 spurt. This stretch lasted for just over three minutes and included five points from freshman reserve guard D'Aundre Samuels (Denver), a jumper from freshman reserve guard Bryson Goldsmith (El Palso) and layup from super senior reserve Winston Cook (Wahoo).
"Late, we didn't turn it over, finally got some stops and finally controlled the glass. I told our team before the game that if we can control the glass and get the 50/50 balls that they thrive off of, we'll give ourselves a chance," said Young.
The Eagles, who shot 58% on the afternoon, didn't get closer than four points the rest of the way with another Evans three-point play putting the exclamation point on the win. CSC didn't help themselves on the day by going 12 of 19 at the line; UNK was a perfect 5 of 5.
The 48 made field goals (12 of 22 threes) is tied for the fourth most in school history and the most by a Loper team in 21 years. Next, the team had a 62-point second half with six players – three starters and three reserves – in double figures.
The 2023 Colorado Player of the Year, Samuels went for 21 points, six assists, five rebounds and three steals in just 25 minutes with Goldsmith providing 12 points on 5 of 8 shooting. Also big off the bench was redshirt junior forward Ryder Kirsch (Rapid City, S.D.) who had 12 points on 5 of 6 shooting.
"We want to push, we want to run … you're going to get tired. You're not going to have five guys just pushing and running constantly," said Young. "So we had to have guys step up, come off the bench and help."
Among the starters, Evans went for 21 on 8 of 11 (3 of 6 threes) shooting with point guard Miguel Robles (East L.A.) having a big first half to the tune of 15 points, five boards and four times. Finally, junior lefty sniper Taden King (Rexburg, Idaho) had 18 points, six assists and was 4 of 6 from downtown.
Post Porter Anderson (20 points, eight rebounds, 8 of 9 shooting) and guard Bryce Latimer (25 points, eight assists) paced the Eagles.
UNK hosts Western Colorado (1-2) on Tuesday night.